Welcome to R.B.T.S Govt. Homoeo. Medical College & Hospital Muzaffarpur.
R.B.T.S Govt. Homoeo. Medical college & Hospital Muzaffarpur was established on 26th May 1958 in a sprawling about five & half acres of land. It is situated in the heart of the city with adequate transportage & other necessary infrastructual facilities. It is situated in the southern entry point of the town near Ramdaylu Nagar Station.
The College is the only Govt. Homoeo Medical. College in Bihar. It is affiliated to the B.R.A Bihar University, Muzaffarpur and is recommended and recognised by the central council of Homoeopathy New Delhi and by the Ministry of AYUSH  Govt. of India respectively. The highly qualified and experienced faculty members impart Homoeopathic education to the student as well as train them practically & clinically to make them able to face the modern challenges of the medical problems. In the total five & half years of graduation course, (BHMS) including 1 year of compulsory internship training the students are trained to become a classical Homoeopathic Doctor.  Read more...
Director / Principal's message.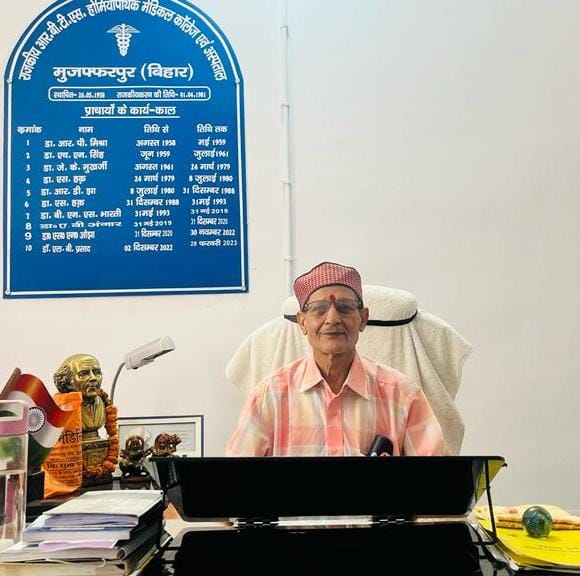 I Dr. SN Thakur, joined this institution on 1st April 1981 as a member of teaching faculty and Principal / Director since 1st March 2023. Rai Bahadur Tunki Sah (RBTS) Govt. Homoeopathic Medical College & Hospital, Muzaffarpur (Bihar) was established in the year 1958 on 26th May. The foundation stone was laid down by the 1st President of Indian Republic Late Dr. Rajendra Prasad. Late Baidya Nath Prasad S/O Late Rai Bahadur Tunki Sah had shown the courage to build a homoeopathic Medical College when Homoeopathy was very much in its embryonic state in India. He donated about 5 and half acres of land in the heart of the city. His continuous positive efforts made the institution a nucleus college in the whole of Bihar. Its infrastructure attracted the Govt. of Bihar to take over the college & Hospital on 01/04/1981.
Shri Nand Kumar Prasad Sah the then Secretary of the College handed over the College to the Govt. of Bihar in full-fledged running condition. He always deserves a salute from the Homoeopathic fraternity. I also want to remember Ex - Principals Late Dr. J.K. Mukherjee, Dr. R.D.Jha, Dr. Prof. S. Haque, Dr. Prof. B.N.S. Bharati, Dr. Prof. A.B.Angar for their efforts in developing this institution from Diploma, Degree to post Graduate level. I hope their continuous and hardworking efforts will never go in vain.
I also appreciate the hardwork of our teaching, Hospital faculties and staffs to prove this college one of the best Homoeo Medical Colleges in India.
Dr. SN Thakur
Principal / Director